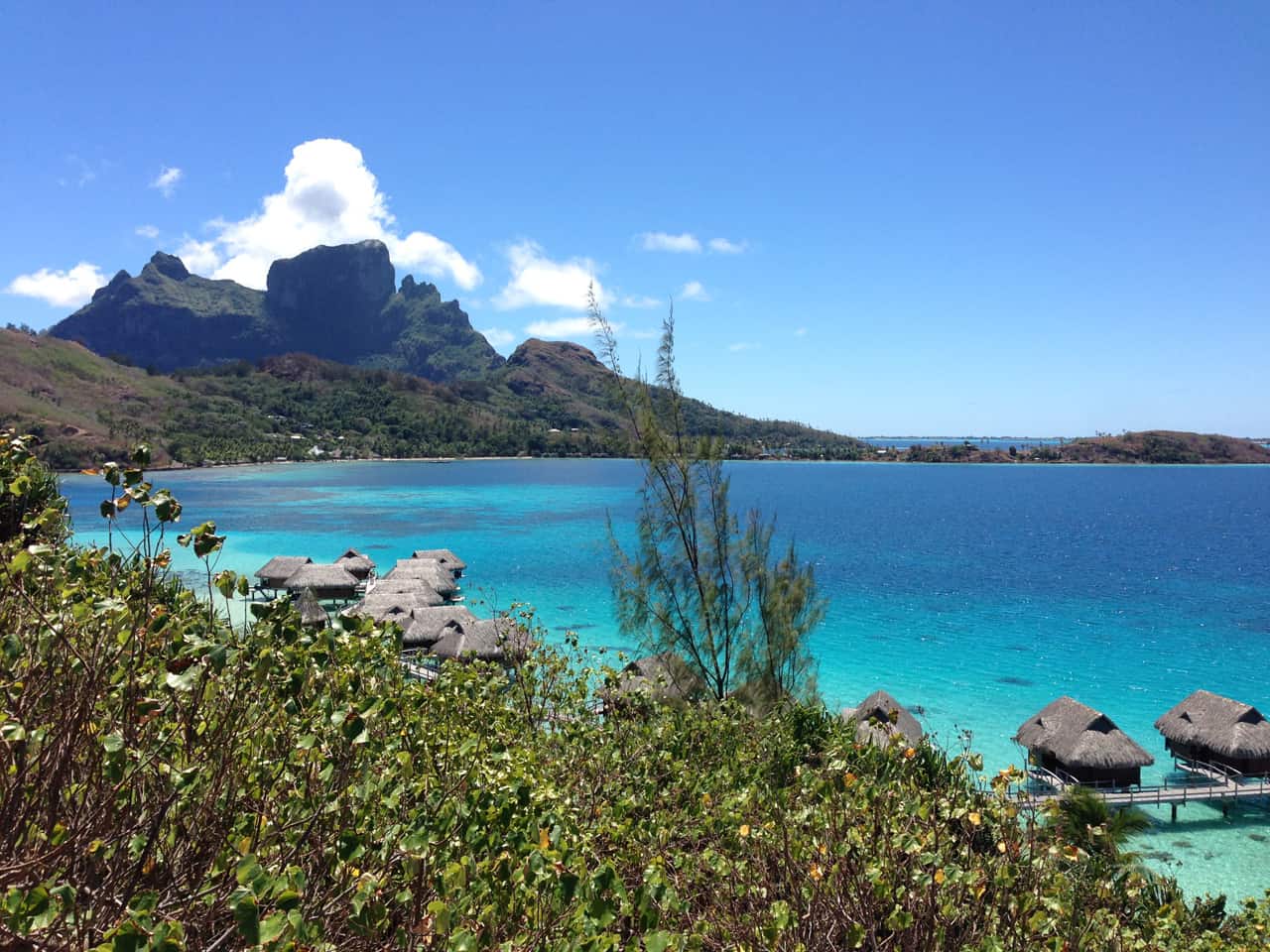 Helpful information and facts about Bora Bora island in French Polynesia
GEOGRAPHY:
Location: Pacific Ocean
Area: 29.3 km2 (11.3 sq mi)
Highest elevation: 727 m (2,385 ft)
Highest Point: Mount Otemanu
WEATHER:
Dry months: April through October (Winter)
Wet months: November through March (Summer)
COUNTRY:
France
Overseas collectivity: French Polynesia
Administrative subdivision: Leeward Islands
Largest city: Vaitape (population 4,927 inhabitants)
Island population: 8,800 as of 2007 census
Postal code: 98730
Telephone country code: 689
HISTORY:
The island was first inhabited by Polynesian settlers around the 4th century AD. Jakob Roggeveen made the first European sighting in 1722. James Cook sighted the island in 1770 and landed that same year. The London Missionary Society arrived in 1820 and founded a Protestant church in 1890. Bora Bora was an independent kingdom until 1888 when its last queen Teriimaevarua III was forced to abdicate by the French who annexed the island as a colony.
In World War II the United States chose Bora Bora as a South Pacific military supply base, and an oil depot, airstrip, seaplane base, and defensive fortifications were constructed. Known as "Operation Bobcat," it maintained a supply force of nine ships, 20,000 tons of equipment and nearly 7,000 men. Seven artillery guns were set up at strategic points around the island to protect it against potential military attack.
However, the island saw no combat as the American presence on Bora Bora went uncontested over the course of the war. The base was officially closed on June 2, 1946. Only one former US serviceman, Fred Giles, returned to the island. The World War II airstrip, which was never able to accommodate large aircraft, was French Polynesia's only international airport until Faa'a International Airport was opened in Papeete, Tahiti, in 1960.
More history of the Kingdom of Bora Bora can be found here.
RENTALS AVAILABLE:
Cars
Bicycles
Motorboats
Outrigger sailing
Canoes
Jet skis
EXCURSIONS / ACTIVITIES:
Aquabike
Deep sea fishing
Glass bottom boat
Kite surfing
Ray feeding
Parasailing
Safari mountain tours
Sailing
SCUBA diving
Shark feeding
Stand up paddle
Submarine tour
FLIGHT INFO:
Local Airport: Bora Bora Airport
Airport Code: BOB
Six daily flights from Tahiti-Faaa Airport: 45-minute direct flight, or 68-minute flight with a stop at Raiatea and Huahine.
RESORTS LOCATED ON A MOTU (Island):
RESORTS LOCATED ON BORA BORA MAIN ISLAND:
RESTAURANTS IN THE RESORTS:
The panoramic Iriatai – Hilton Nui Resort
La Sakura – Sofitel Marara Beach Resort
Lagoon – St Regis Resort
Latitude 60 – Sofitel Marara Beach Resort
Le Tipanie – Le Meridien Resort
Haere Mai – Le Maitai Polynesia
Manu Tuki – Sofitel Private Island Resort
Noa Noa – InterContinental Le Moana Resort
Tamatea – InterContinental Resort & Thalasso Spa
RESTAURANTS OUTSIDE THE RESORTS:
ART GALLERIES / BOUTIQUES:
Alain et Linda – Pofai Bay – TeI. 67.70.32
Naea Studio – Faanui – Te. 67.71.17
Rosine Temauri Masson – Matira – Tel. 67.72.04
Patine – Nunue – Tel. 67.74.09
Opeck Black Pearl – 67.61.62
Sibani Pearls – Vaitape -Tel. 67.75.75
Bora – Vaitape – Tel. 67.79.72
Matira Pearl Fashion – Pointe Matira – Tel. 67.79.14
Bora Bora Bijou – Vaitape – Tel. 67.74.34
Guaguin – Amanahune – Tel. 67.76.67
Honeymoon – Pofai Bay -Te. 67. 78.19
Martine Creations – Matira – Tel. 67.70.69
Moana Art – Matira – Tel. 67.70.33
Bora Bora Camera Shop – Amanahune: Tel. 67.76.63
Hibiscus – Anau – Tel. 67.72.43
Palme d' Or – Vaitape – Tel. 67.78.77
Planet Surf – Vaitape – Tel. 67.71.35
Tamaril Shop – Vaitape – Tel. 67.75.00
Pacific Sud – Vaitape – Tel. 67.77.00
La Boutique – Matira – Tel. 67.70.43
BANKS:
Banque of Polynesia – Vaitape – Tel. 67.70.71
Bankque Socredo – Vaitape – Tel. 67.71.11
Bankque Westpac – Vaitape – Tel. 67.70.72