Here is an island of Bora Bora map that will allow you to see where all the major accommodations are located. You can also see symbols for the main town of Vaitape and the Bora Bora Airport in the north.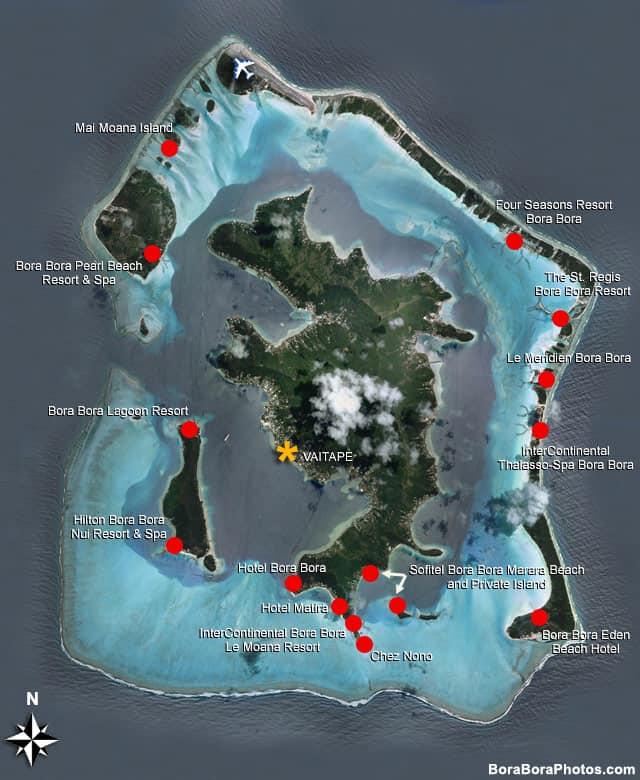 There are a decent amount of hotel accommodations to choose from despite this being a remote island in the middle of the Pacific Ocean. If you're asking yourself, where is Bora Bora? Then I suggest you check out our other pages. This popular south pacific destination for honeymooners and vacation travelers from around the world tends to fill up in their Winter months (May-August). You may consider visiting during the off-season if it works for your budget.
One of the significant factors Jessia and I discussed during our honeymoon was the price since we had just shelled out a hefty amount for our wedding. We wanted a resort with a beautiful view of Mount Otemanu and an overwater bungalow, but we also wanted to explore the island on a budget. We decided to pick a hotel that offered a free shuttle to the main island that was within walking distance of Matira Point. Some resorts charge up to $20 USD for a one-way boat ride to Vaitape. Obviously, they want to keep you spending money at their resort.
The Sofitel Private Island and InterContinental Thalasso resorts are the only two places with sister hotels on the main island. With this connection, they offer free boat shuttles for their guests. We were able to shop at the markets for supplies (food & booze) and walk to Matira Beach on multiple occasions without it paying additional resort fees to do so.
Major Bora Bora Resorts
Other Notable Locations
Lagoon Resort – (CLOSED)
Hotel Bora Bora – (CLOSED)
Quick Tip: You can't go wrong with a hotel location on Bora Bora. There are various price options available for things like a private plunge pool or whether the overwater villas face a white sand beach or the majestic Mt. Otemanu. There is a "you get what you pay for" experience, but the island is so beautiful, it's a bucket list destination.
Frequently Asked Questions
How much does a Bora Bora holiday cost?
The average cost of a one-week trip to Bora Bora is $10,000 for a couple. Note that this average price to Bora Bora is from anywhere in the world.
Where did the Kardashians stay in Bora Bora?
The entire family stayed in overwater bungalows. Kris and Bruce Jenner, Kim Kardashian, and Kris Humphries stayed at the Conrad Nui Resort & Spa (formerly the Hilton Nui Resort) in $5,000/night Presidential villas.
What is the best time of year to go to Bora Bora?
The best time to go to Bora Bora is between November and April. The short-shoulder season has fine weather with temperatures in the mid-70s to mid-80s. The high season runs from May to October when rain showers are isolated, and the number of tourists swells.
How many days in Bora Bora is enough?
We recommend you stay 3-4 days in Bora Bora. This gives you plenty of time to explore this fantastic island and all the shades of blue the lagoon offer. If you have more time, you will love spending that here too, just keep in mind that Bora Bora is the most expensive island in French Polynesia.