Here is a Bora Bora hotel map which will allow you to see where all the major hotels are located on the island. You can also see symbols for the main town of Vaitape and the Bora Bora Airport in the north.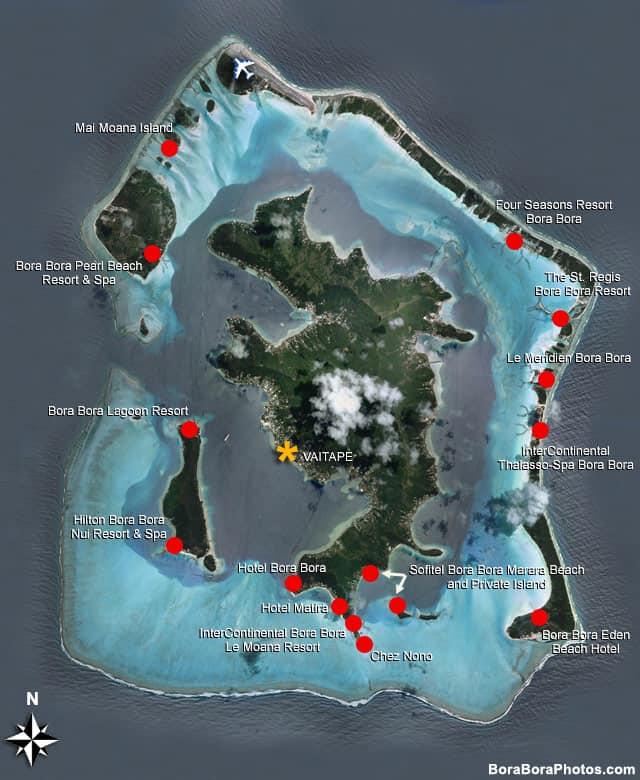 There are a decent amount of hotel accommodations to choose from despite this being a remote island in the middle of the Pacific Ocean. If you're asking yourself, where is Bora Bora? Then I suggest you check out our other pages. This popular tourist destination for honeymooners and vacation travelers from around the world tends to fill up in their Winter months (May – August). If it works for your budget, you may consider visiting during the off-season.
One of the major factors Jessia and I discussed during our honeymoon was price, since we just shelled out a hefty amount for our wedding. We wanted a resort with a beautiful view of Mount Otemanu, but we also wanted to explore the island on some-what of a budget, so we picked a hotel that offered a free shuttle to the main island. Some resorts charge up to $20 USD for a one-way boat ride to Vaitape. Obviously, they want to keep you spending money at their resort.
The Sofitel Private Island and InterContinental Thalasso resorts are the only two places that have sister hotels on the main island. With this connection, they offer free boat shuttles for their guests. We were able to shop at the markets for supplies (food & booze) and walk to Matira Beach on multiple occasions without it paying additional resort fees to do so.
Major Bora Bora Resorts:
Other Notable Locations:
Lagoon Resort – (CLOSED)
Hotel Bora Bora – (CLOSED)
Quick Tip – You really can't go wrong with a hotel location on Bora Bora. There are a variety of price options available, and there is a "you get what you paid for" experience but from a view standpoint, the island is so beautiful, the view will be great everywhere.