Have you seen photos of overwater bungalows or heard someone talk about their honeymoon in Tahiti? If you're unfamiliar with the Pacific, you may be asking yourself, where is Tahiti? Well, here's the answer to that question.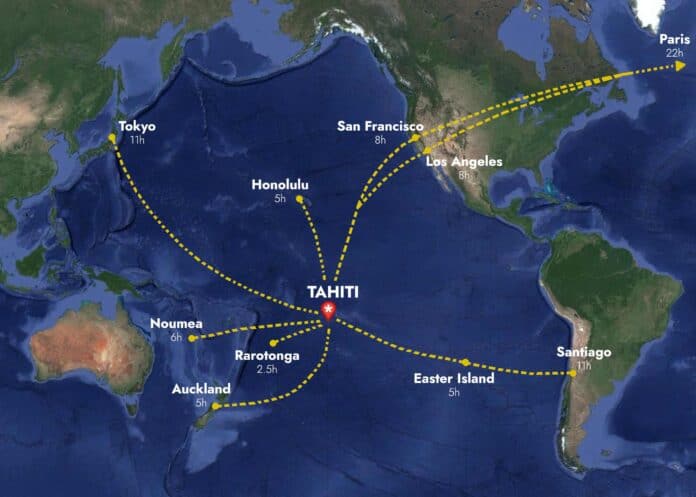 Tahiti is in the South Pacific
Tahiti is located in the middle of the South Pacific Ocean, about halfway between the United States and Australia, in French Polynesia. The island of Tahiti is in the same time zone as Hawaii and is roughly the same distance away from the equator but on the southern side of it.
Tahiti is easily accessible from North America, South America, New Zealand, Australia, and Asia. Most of French Polynesia comprises of ocean and lagoons as the 118 islands and atolls only have approximately 1,600 square miles of land mass between them.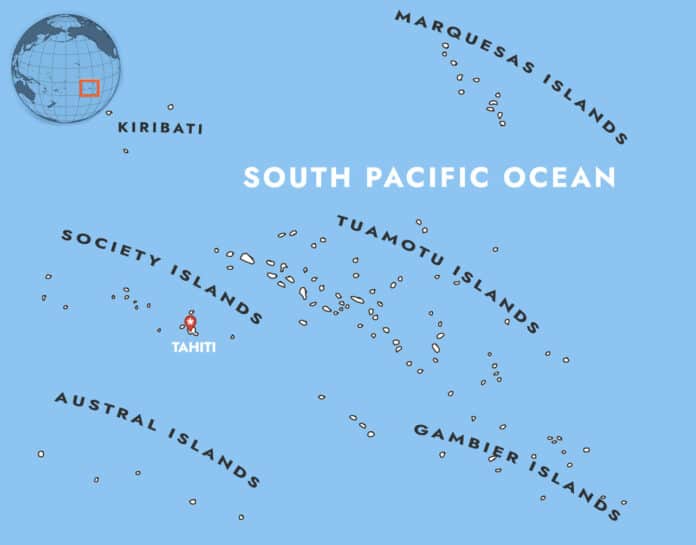 French Polynesia includes multiple island groups, or archipelagos called the Society islands, Tuamotu islands, Gambier islands, Austral islands, and the Marquesas islands. Tahiti is located within the chain of islands known as the Society islands. Because of its size, international airport, port, and population, it serves as the hub for the region.
The Society Islands
The Society Islands is home to black pearls and the island of Bora Bora, one of the most famous honeymoon destinations in the world. People from around the world come to stay in an overwater bungalow and for snorkeling or diving in its blue lagoon. However, just like Huahine, Raiatea, and Moorea, you can't get there directly. Most travelers must fly into Faa'a International Airport (PPT) on Tahiti, which serves domestic and international flights from Paris, Tokyo, Easter Island, Cook Islands, and more.
For example, when we visit Bora Bora, we fly Air Tahiti Nui airlines, an 8-hour overnight flight from Los Angeles to Papeete. From the Tahiti airport, we fly the domestic carrier Air Tahiti airlines from Papeete to Bora Bora, which takes about 50 minutes. Optionally, you can take a Paul Gauguin cruise ship to explore several islands.
The Island of Tahiti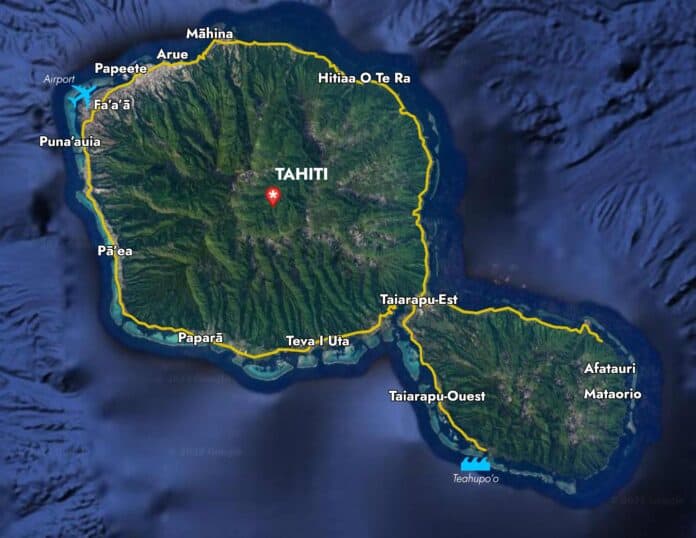 The island of Tahiti is divided into two parts: The more significant portion to the northwest is known as Tahiti Nui, while the smaller, southeastern peninsula is known as Tahiti Iti. Tahiti Nui contains three extinct volcanoes, Mount Orohena, the tallest in all of French Polynesia; Mount Aorai, known for incredible views; and the dramatic Le Diadème mountain peaks.
Given its tropical location, Tahiti and the surrounding islands are blessed with ideal weather all year round. French Polynesia has a local government but is an overseas collectivity of France and subject to the French rule of law. Most Tahitian people live on the northwestern side of the island in the capital city of Papeete, where there is a thriving downtown and local municipal market. Most people there speak Tahitian and French, as they are both official languages.