The Bora Bora Pearl Beach Resort and Spa is located on the island of Motu Tevairoa in Bora Bora, French Polynesia. The hotel fronts a private beach and offers recreational beach and water-sport activities. The city of Vaitape, Bora Bora's main village, is 20 kilometers from the hotel.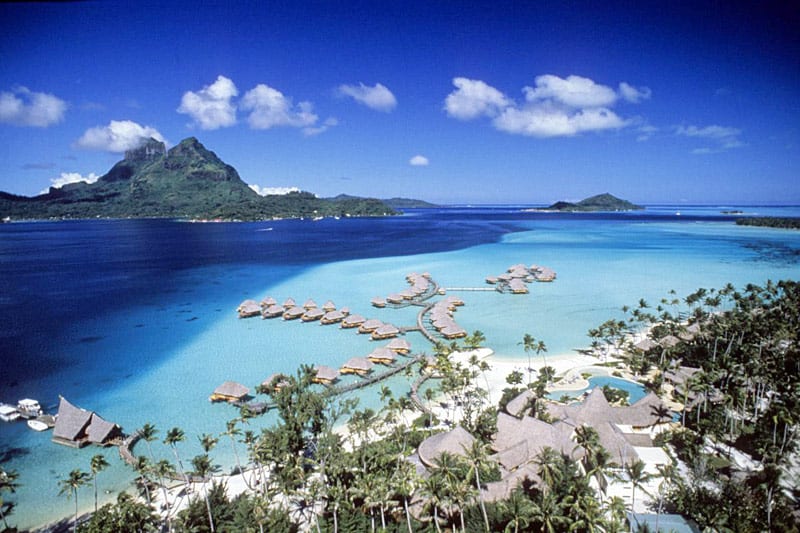 The resort features the Manea Spa, housed on stilts among the island's lush foliage. The spa's décor is accented by natural Tahitian resources, such as coconut trees, Kaori wood, bamboo, and lava stone. The property's main dining room, Tevairoa Restaurant, is open for breakfasts and dinners. The restaurant sits 6 meters above sea level and overlooks Bora Bora Lagoon and Mount Otemanu.
On Mondays and Fridays, a Polynesian dinner show is performed. The Miki Miki Restaurant and Bar serve poolside lunches and beverages. The Taurearea Bar serves meals and offers panoramic sunset views. The resort boasts an outdoor freshwater pool and an adjacent spa tub.
Complimentary recreational activities include kayaking, outrigger canoeing, paddle boarding, snorkeling, and miniature golf. Other activities, such as historical island tours, diving excursions, and shark and stingray feeding trips, can be arranged for a fee.
The hotel features a game room, an on-site movie theater, and boutique shopping. Guests enjoy wired and wireless Internet access in public areas (surcharge). The lobby includes complimentary newspapers and a safe deposit box at the front desk. An area shuttle is complimentary.
The resort offers a garden and beach bungalows over the water. These rooms provide a private viewing of marine life through glass tables and offer lagoon views. Garden bungalows feature private plunge pools with garden views. Beach bungalows offer private spa tubs with beach and lagoon views.
Rooms are outfitted with Polynesian décor and pitched ceilings made of local timber. Units are equipped with air conditioning and cable television. Wired and wireless Internet access is available (surcharge).
Hotel Information
Name

: Le Bora Bora Resort

Description

: Featuring a spectacular view of Bora Bora's Mount Otemanu, the 80 bungalow resort's idyllic location on Motu Tevairaoa, luxurious accommodations, delicious cuisine, and indulgent Manea Spa treatments together guarantee an unforgettable experience.

Address

: BP 169, Bora Bora, French Polynesia

Phone

: +(866) 539-0036

Email

: es@spmhotels.pf
Video