Okay, let's assume you've already seen some incredible pictures of a majestic volcano and a big lagoon with multiple shades of blue. So now you want to know, where is Bora Bora? If you didn't know, Bora Bora (island map) is located in French Polynesia and is part of an island chain called the Society Islands.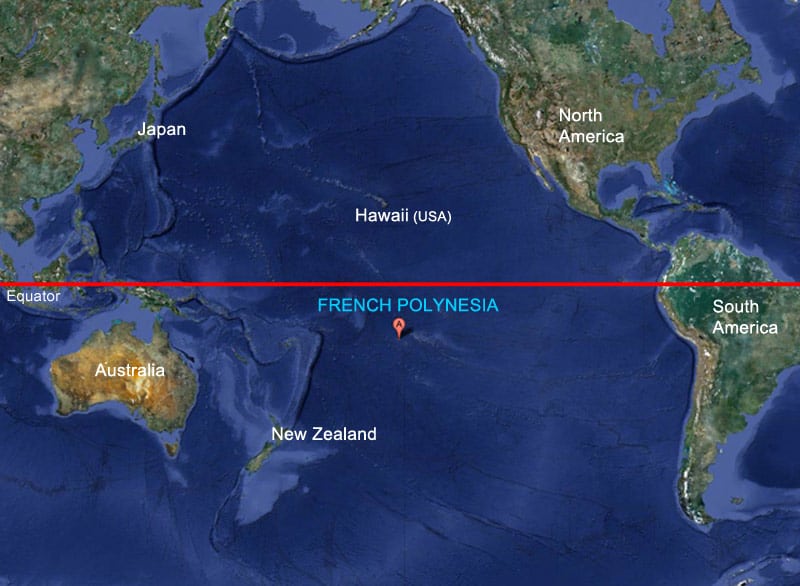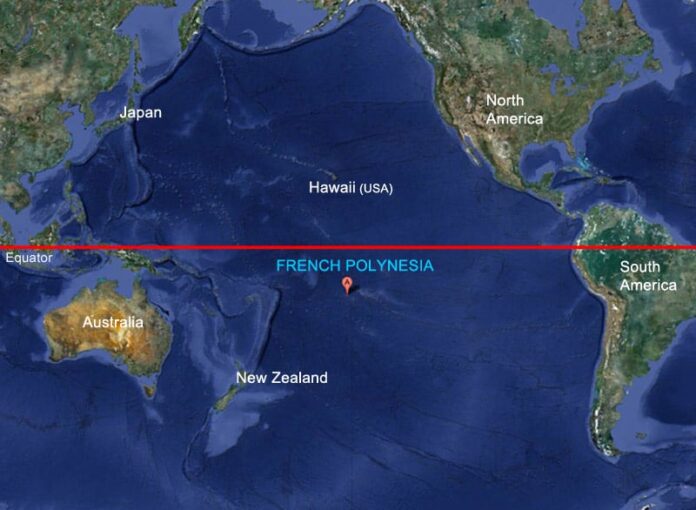 The "Pearl of the Pacific," as it's also referred to, is located about 160 miles northwest of Tahiti and approximately 2,600 miles south of Hawaii. There are no direct international flights to Bora Bora Airport unless you own an expensive private jet, although even then, I believe you still need to stop in Tahiti first to go through customs. For us regular people, daily flights worldwide fly into the big island of Tahiti and land at Fa'a'ā International Airport in the capital city of Papeete (Airport code: PPT).
From Papeete, you will need to transfer into a small propeller plane and take a 50-minute flight to Bora Bora via Air Tahiti Airlines, the only domestic carrier that serves French Polynesia. It's a quick trip, and on a clear day, you can see the islands of Moorea, Raiatea, and Tahaa along the way.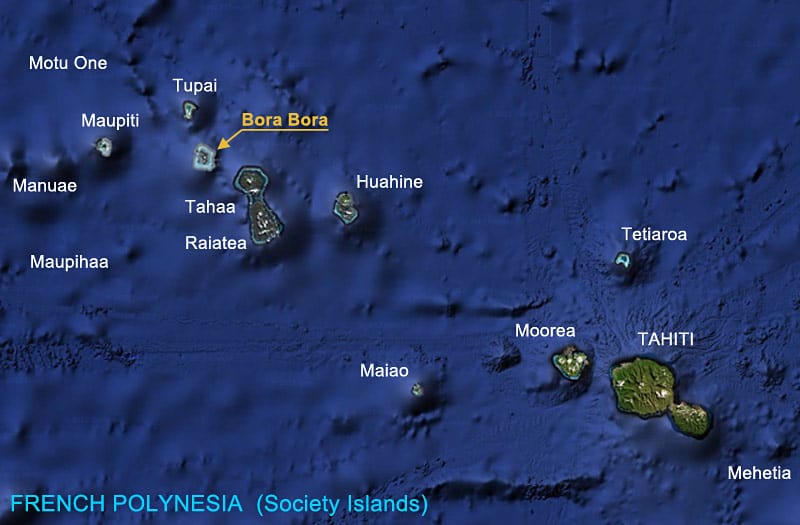 You can see it on the map above. The island location is right smack in the middle of the Pacific Ocean. So if a remote vacation is what you imagined, you've picked the right place. If Bora Bora is too pricey for your budget, but you still want to stay in an overwater bungalow in the South Pacific, there are many other options in the Society Islands to choose from. Bora Bora just happens to have the most significant draw because of the attention it's received.
Average Flying Times to French Polynesia
Los Angeles (LAX) to Papeete (PPT) is 8 hours
Tokyo (TYO) to Papeete (PPT) is 11 hours and 30 minutes
Auckland (AKL) to Papeete (PPT) is 5 hours
Flight durations are based on Air Tahiti Nui travel route map.
Size of French Polynesia
The islands of French Polynesia have a total land area of 4,167 square kilometers (1,622 sq. mi) spread over 2,500,000 square kilometers (965,255 sq. mi) of the ocean. There are around 130 islands in French Polynesia. Some remote and uninhabited others, like Bora Bora, are major tourist destinations.
Here is a list of the island groups that make up French Polynesia:
The Marquesas Islands
Society Islands
Tuamotu Archipelago
Gambier Islands
Austral Islands
Bass Islands
Travel Tip
When making the trip to the South Pacific for the first time, we suggest you stay on Moorea for a few days, then head to Bora Bora. It will be slightly cheaper on your wallet.