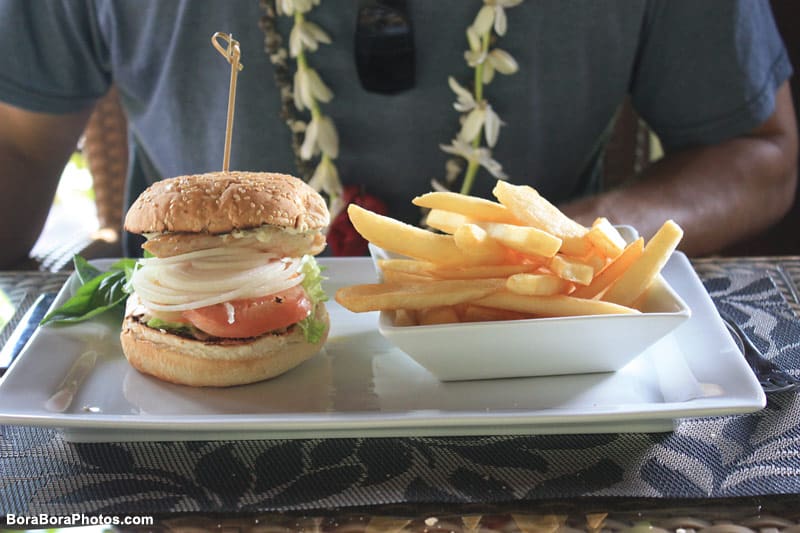 For our honeymoon, we had the opportunity to stay at the Sofitel Bora Bora Private Island Resort. As part of the package, we received breakfast included each morning which was a perfect way to start each day.
We stayed on the private island (motu), so we frequently dined at the Sofitel Private Island Manu Tuki Restaurant. We loved this venue because it had breathtaking panoramic views of the lagoon and faced the main island. The restaurant served a buffet style breakfast from 6:30 to 10 am and lunch between 12 pm to 5 pm.
Bora Bora is located in French Polynesia, and the culture and food reflect the French influence. We looked forward to waking up each morning and taking a short walk up to Manu Tuki for a breakfast that satisfied any and every craving you might have.
We were always greeted with a smile from the staff and a cheery "bonjour!" As we sat down, we were immediately given a basket filled with flakey croissants and mini baguettes. I am a huge fan of French viennoiserie style pastries, so I was in heaven!
The breakfast offerings included fresh juices (mango, papaya, pineapple, grapefruit, orange), smoked fish (swordfish being my favorite), various artisan cured meats, and gourmet cheeses. There are also made to order omelet's, fresh fruit, yogurt, pannacotta, pot de crème, freshly baked loaves of bread, brioche and cereal.
The lunch selections consisted of burgers, fish sandwiches and French Polynesian dishes (poke or ceviche style fish dishes, curries, fresh fish plates, seafood salads). I fell in love with a dish called "Poisson Cru," a Tahitian style raw fish salad made with chunks of yellowfin or ahi tuna, fresh lime and lemon juice, chopped tomatoes, onions, cucumbers and carrots, and marinated in coconut milk and served with a side of rice.
My husband and I learned how to make this dish on an excursion in Moorea, and I have been a fan ever since. The simplicity and freshness of this dish make it craveable. I believe I ordered this dish at least every other day! As I became hooked on Tahiti's version of ceviche, my husband often ordered the "Bora fish burger" from Manu Tuki for lunch, and I must admit, it tasted amazing!
There are two dinner options at the Hotel Sofitel Bora Bora Marara Beach and Private Island. The Manu Tuki serves a specially designed fixed menu dinner once a week at the motu. On the main island, you can take a complimentary small boat shuttle, which takes a quick 5 to 10-minute ride provided by the Sofitel Hotel to the Marahara Beachside.
There is a restaurant on the main island called Latitude 16 Degrees. This restaurant offers a more fine dining experience, overlooking the lagoon with a terrace. The menu is created by Head Chef Sebastien Schipman, and features international cuisine, theme nights, and a traditional Tahitian oven.
As we began to interact with the locals and hotel staff each day, we learned a few important Tahitian words such as "ia orana" for "hello", "Maeva" for "welcome" and the most important saying "maruru" for "thank you". We quickly picked up the various sayings and were communicating with others as often as possible. We were so thankful for the hospitality that the hotel staff and locals living on the luxurious Bora Bora Island had shown us during our stay.
Quick Tip – Important Tahitian words:
Maruru (mah-roo-roo) – "Thank you"
Maeva (mah-ay-vah)- "Welcome"
Ia orana (ee-ah oh-rah-na)- "Hello"
Parahi (pah-rah-hee)- "Goodbye" (Our least favorite saying!)
Quick Tip – Pick up a free paper "Map of Bora Bora" when you land at the Bora Bora airport. This map details where lodging, car rental, activities, shopping, and restaurants can be found on the island.