Nestled on a white beach and blue lagoon, the Conrad Bora Bora Nui Resort & Spa is an idyllic retreat.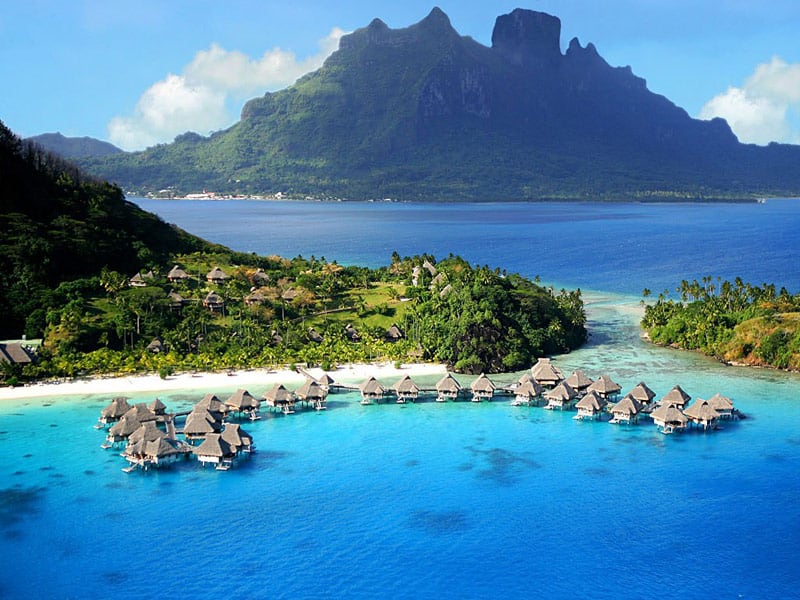 Located in the French Polynesia group of islands in the Pacific Ocean, the resort is ten minutes by boat from Vaitape village. Enjoy a scenic flight to Bora Bora, then arrive at the resort by a private hotel boat. Soak up the privacy of a suite or villa set over the water, on the hill, or in the garden. Savor panoramic views over the lagoon and absorb the tropical landscape
Watch the sunset with cocktails from a Polynesian-style beach bar. Dine on local or Mediterranean cuisine in a relaxed island setting. Unwind by the pool or beach with a chilled beer, exotic juice, or light snacks.
Refresh in the infinity pool, work out at the fitness center and indulge in beauty treatments at the hilltop spa. Indulge in evening drinks with live entertainment at the resort's Polynesian-inspired bars and restaurants. This Polynesian Resort boasts 800 meters of sandy beach with breathtaking lagoon views and offers an idyllic setting for events. Host a business meeting, function, or wedding at a beach venue or air-conditioned meeting room.
Surrounded by a blue lagoon and barrier reef, the island is a magical destination for water sports. Create lasting memories by snorkeling with tropical fish in the reef. Try windsurfing, jet skiing, and scuba diving in the lagoon.
Snorkeling equipment, paddle boards, or pedalos are available at no cost at the Conrad Bora Bora Nui Resort & Spa. Enjoy lazy days relaxing on the sandy beach and absorbing paradise island life.
Pamper yourself at the resort's hilltop spa or enjoy family fun at the infinity pool. For the perfect getaway, take a five-minute boat trip to the private islet of Motu Tapu. Savor a once in a lifetime experience with a romantic dinner or traditional wedding on the hotel beach or Motu Tapu island.
Hotel Information
Description

: Savor the magic of the French Polynesian islands at Conrad Bora Bora Nui Resort & Spa with its 122 Suites & Villas. Escape to a Polynesian-style suite or villa situated over the water, on the hill, or in the garden.

Address

: BP 502, Bora Bora, French Polynesia

Phone

: +(689) 603 300
Video