When planning your tropical honeymoon or vacation getaway to French Polynesia, you might consider upgrading your seats on Air Tahiti Nui airlines to the luxurious Poerava Business Class. It's a pretty penny more than the standard fare, but if you're on the fence about booking the luxury seats, here are ten benefits of flying in front of the plane.
1) Poerava Business Class check-in
Breeze through the bag check process with very little wait time.
2) Business Lounge
A massive bounty of complimentary food and drinks await in a quiet private lounge. Grab a newspaper, or connect to free wifi and sit back in comfy chairs while you wait for the plane to begin boarding. And if you're in full vacation mode, there's a nicely stocked bar of cocktails and a refrigerator full of beers.
3) Early Boarding
Priority boarding allows you to minimize your wait time at the gate and to take your seat early. No rush as you settle into your home for the next 8 hours. Friendly stewards pass through the cabin with champagne and Tahitian juices.
4) Gift Basket
As a friendly Tahitian welcome gesture, a box of travel supplies is waiting at your seat. Earplugs, socks, toothpaste/brush, and more.
5) Bigger Seats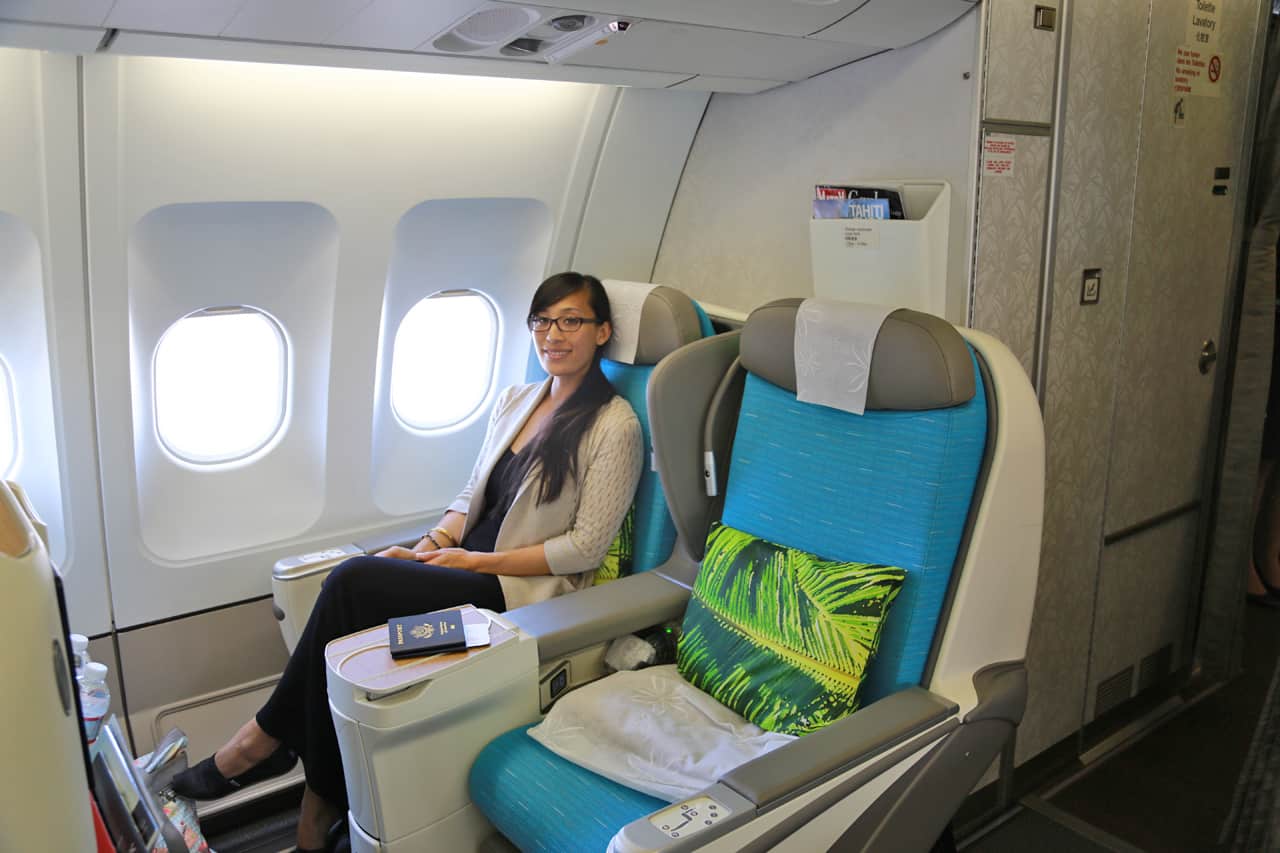 The seat is the nicest benefit, as you'll be spending the most time on it. Tilt back and relax in several different positions with the ability to almost lie flat. With an 8-hour red-eye flight, you can sleep and feel refreshed upon arrival.
6) Large Media Center
When tilted back in your chair with your legs in the air, switch to the media center remote hiding in the armrest when the touch screen is out of reach. The latest blockbuster films are preloaded, and games and videos about the French Polynesian islands are available.
7) Quality Headphones
When little earbuds just won't due. Air Tahiti Nui's Poerava Business Class has large stereo headphones, so you can drown out the white noise and enjoy your in-flight programming in the media center.
8) Spacious Interior
Business class is set up in a 2-2-2 seat configuration compared to the 2-4-2 format in coach. By having larger seats with more space in front and behind you, you feel like you're in your living room at home than flying on a plane.
9) High-Quality Food
Towards the beginning of your journey, stewards pass out dinner and wine menus where you can pick your cuisine. The drink menu has a variety of wines to choose from, along with a daily guest wine available.
10) Priority Bag Pickup
All Poerava Business Class travelers get their bags assigned with a yellow Priority label, so even your luggage receives special attention. Once you land at your destination, your bags are also the first to appear out of the carousel, saving you time during pickup.
As you can see, flying Air Tahiti Nui's Poerava Business Class allows you to travel in comfort and style. A typical fare is about double the standard ticket. This may be out of the range for most people. However, flying Air Tahiti Nui airlines is a pleasant experience regardless of which part of the plane you're in. I always think the stewards and over-the-counter staff make the experience enjoyable or not. Thankfully, the primarily Tahitian employees have a friendly attitude, making traveling less stressful.