We list the top 5 reasons why you should consider the Sofitel Private Island Resort when visiting Bora Bora for your honeymoon or vacation.
We know it can be a difficult decision to pick a resort in a destination you've never been to before and we hope to share with you some of the reasons why we love the Sofitel Private Island Resort. We stayed here on our honeymoon and over the years we continue to keep coming back because of these reasons:
#1 – The Intimacy and Size of the Island
The Sofitel Bora Bora motu is the only hotel located on its own private island. Luxuriously appointed in traditional Marquesan style, the island only has 31 bungalows thoughtfully spaced over the lagoon, amongst the trees or on the private beach. If you happen to be celebrating a honeymoon, then you're probably looking for an adults-only destination with a romantic atmosphere, we think the Sofitel Private Island is the best choice.
#2 – The Connection to the Main Island
A free 5-minute boat shuttle is available at any time to whisk you away to the Sofitel Marara Beach Resort (sister hotel), and from there you can access a taxi or simply walk 15-minutes to nearby Matira Beach. There are also convenience markets and restaurants within walking distance in case you need to load up on supplies or want to grab a bite to eat outside the resort.
Most other resorts offer transportation to the main island, but there's typically a cost associated with it and a specific schedule you need to stick to. If you're looking to explore Bora Bora at your pace, then the Private Island Resort is a great option.
#3 – The Incredible View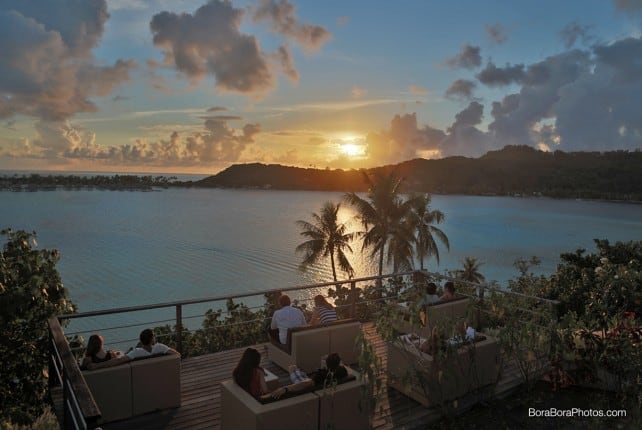 One of the unique features of the Sofitel Private Island Resort is the topography of the island. Most resorts in Bora Bora are on a flat motu but not the Sofitel. There is a beautiful lookout on the top of the hill with a 360-degree panorama view. It is a fantastic place to enjoy a sunset cocktail and admire the scenery.
#4 – The Coral Gardens
Accessible by either kayak or on foot, the coral gardens on the back side of the Sofitel island are a popular snorkeling attraction for all visitors to Bora Bora. In fact, many of the lagoon tour operators take their guided tours to this spot. There is an incredible variety of fish and sea life here, be sure to bring an underwater camera. If you're staying at the Sofitel Resort there's no need to pay for an excursion, just see this beautiful reef on your own and save yourself some money.
#5 – The Special Touches
The luxury of a five-star hotel and the beauty of Bora Bora's aquamarine waters makes this Sofitel Private Island a one-of-a-kind place. However, other small features may sound simple but yet are not always offered at the other resorts. Here are just a few more things that make the Sofitel Private Island Resort awesome:
Friendly Staff – There's only a handful of bungalows, so you get special attention.
Coconut Welcome – upon arrival, a cold refreshing coconut is there to quench your thirst.
On-site Massages – Relax with a couples massage in a private bungalow along the lagoon.
Free mini-bar – Say what? Yep, juices, beers, waters, it's all free and refilled daily!
Free in-room WiFi – No need to pay extra or go to a designated hotspot location.
Equipment rentals – Explore and have fun at your pace, no need to pack bulky snorkel gear in your bags.
Designer soaps – French fragrances of Les Notes de Lanvin shampoo, conditioners, etc.
Padded lounge chairs – Each bungalow has comfortable pads on their chairs.
Turn-down service – Tasty macarons and bottle waters each night.
Wedding packages available – Looking to tie the knot in Bora Bora? They've got a package for that.
Memorable moments – A private romantic dinner on the beach with a unique Polynesian show is available.