If you are willing to spend the extra money to stay in an overwater bungalow, one great feature is the glass floor. The view allows for spectacular glimpses of sea life in the beautiful warm waters of the Bora Bora lagoon.
When we stayed at the Sofitel Private Island resort, the waters were very calm, so we got a clear view of all the different fish in the surrounding area. It is an incredible sightseeing schools of fish swim by in the lit-up glass floor view from our bungalow. We enjoyed relaxing on the couch, drinking a cocktail, and watching the fish swim by under our feet.
When staying in the overwater bungalow, snorkeling equipment is a must-have! We packed our gear, allowing us to view the schools of fish, jellyfish, and even small (non-harmful) sharks swimming nearby. You will see small reefs where the sea life gathers and live harmoniously.
I was initially nervous about venturing into the water; however, our bungalow was situated far enough into the lagoon that we could jump off our deck into the water and not touch the bottom, but it was not too deep.
The lagoon has a sense of safety because Bora Bora is surrounded by motu (small islands) that protects the inner lagoon from rough waters and creates a perfect swimming environment for visitors.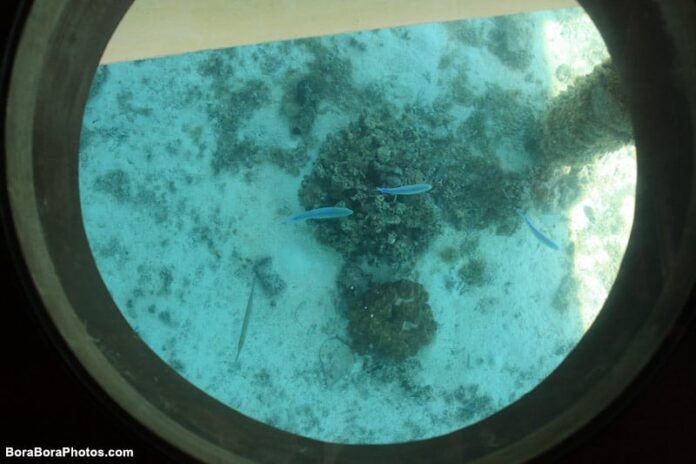 We would jump into the warm and calm waters at our leisure, put on our snorkeling gear and explore the neighboring areas. There is also an outdoor shower on the side of each overwater bungalow so you can quickly rinse off the salt water from your swim and get back to sun tanning on the deck.
The overwater bungalow is the perfect way to have your own home away from home and enough privacy to get well-deserved relaxation.
Travel Tips
The Le Meridien resort has some of the largest glass floors in its overwater bungalows.
Bring your own snorkeling gear to get great views of the sea life around your bungalow! We bought our snorkeling gear from Costco and used it at different excursions and resorts. This also saved us a lot of money rather than renting the gear from the hotel and sharing mouthpieces with strangers.