Jessica and I love sharing beautiful photos of Bora Bora as most of you who follow our blog are clearly aware of, but you know what? We also deeply enjoy making personal connections with locals on the island. We have been very fortunate to cross paths with a professional travel writer and an extremely popular Bora Bora wedding photographer. For this interview we are very grateful have had the opportunity to exchange emails with Heirama Fearon who owns and manages Vavau 4×4 Adventures. They are one of the top rated and most reviewed Bora Bora tour operators on TripAdvisor. Above is a Family picture of the Vavau Team. From left to right you have Hiro, Jo, Juliano, Patrick (Operation Manager), Etienne (Head Mechanic), and Heirama.
How long have you lived in Bora Bora? And what brought you to the island?
I am a native of Bora Bora, I was born on Tahiti but raised in Bora Bora. Born from an american father and Tahitian mother. I have been educated in Hawaii and California. Hawaii, big island to be specific for high school and College at Pepperdine University right in Malibu. After school and working abroad I came back to Bora Bora in 2004 and started my 4×4 business in 2006. I came back to Bora Bora as I felt it was the right time to come back and needed to be back home after being away for 12 years.
When on the island, describe your average day?
My average day in Bora Bora has changed quite a bit in the past couple of years. As I currently live between two places Hawaii and Bora Bora. My Immediate family now lives in Hawaii but we go back to Bora Bora all the time. I spend about 60% of my time in Hawaii and 40% in Bora Bora. Being from Bora Bora you are pretty much related to the whole island, so I still have a lot of family there. I have a great business partner Patrick Mahuta who takes care of all our daily activities and Manages our Team very well.
What do you personally do for fun?
When I am in Bora Bora and I am not working I like to hike around the island and really take in the natural beauty. There is not one high point that I have been to where the view has not been absolutely amazing. On hot days I like to spend that time in the lagoon whether its paddle boarding around or snorkeling. There is always something amazing to see in Bora Bora whether you are above water or under it.
Bora Bora has a such an interesting history, what is your favorite story or fun fact about the island?
Bora Bora does have some amazing stories in its history! From the great migration of the polynesian seafaring people to the friendly occupation of Bora Bora by the Americans during World War II. Would you believe that during the time the Americans spent on Bora Bora, they set up most of the infrastructure that is still used today. For example the main road that goes all around the island was done by the GI's. Most of the running water at the exception of the new modern desalinization plants was built by the Gi's. We still use some of the water storage facilities to this day. Back in those days they even had 2 movie theaters on the island, one in Vaitape and another in Anau. It was a time when you speak to the last of the ones that are still around, was a great and happy time. Even though the rest of the world was not in the same situation. In many ways that was the first time that Bora Bora had its first taste in tourism. Many locals would make and sell shell lei's, or make local artwork that the GI's could take back home as souvenirs, they would also catch fish and sell them to the Americans.
Do you participate in any of the local festivals?
Now days its a bit hard for me to participate in the local festivals as I am always on the move between Hawaii and Bora Bora. But our company is active in sponsoring and participating in local events. Patrick is an active participant in the "Petanque" tournaments (Like botchy ball), we sponsor the local table pool club and even the Tahitian Javelin events during the July festivities. Our staff manager is an active participant in the Tahitian Javelin and always does very well during the competitions.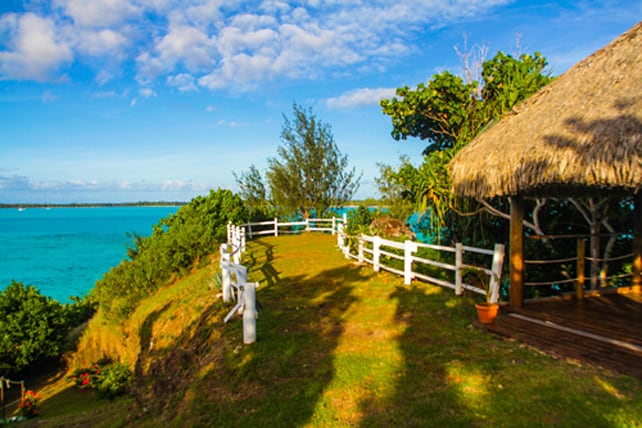 Where is your favorite place on the island?
It is so hard to say which one is my favorite place in Bora Bora, I have several places in mind because it brings a different perspective in the view and way it makes me feel when there. While on my trucks I would have to say our Matira lookout point is truly amazing as you can see all the different colors in the lagoon from the dark blues to turquoise to emerald greens. From there you can see Taha'a and Raiatea and even beyond that on special clear days. This access point is available only to my company and truly an amazing lookout point. Another great lookout point is up top Motu Piti U'utai. Which is the little island right next to to the Sofitel Motu, from up there you have a beautiful 360 view and there is a real sense of peace and serenity up there. Its almost a different time zone if you are used to the hustle and bustle on the big city and you walk up this place, the views and calmness of it will make you forget about all of that big city stuff and appreciate the moment. This view you can access by going on our lagoon tour, this is where we stop for lunch and a little R&R before going back to the hotel.
How did you get started in the tourism industry?
Well tourism has always been in my blood, my late grandfather built the famous hotel Bora Bora and was one of the pioneers of the over water bungalow. I grew up in the hotel Bora Bora so its something that comes really naturally to me. My business Partner Patrick has also been in tourism his whole life, he started as a bartender at the Tahara'a hotel in Tahiti, then continued on as a hotel staff trainner for new recruits. He would travel the islands and help set up new hotels and their staff and making sure that they would get the proper training. Before we started working together he was the F&B Manager for the Bora Bora Nui. Where I later recruited him as my manager and later became my partner.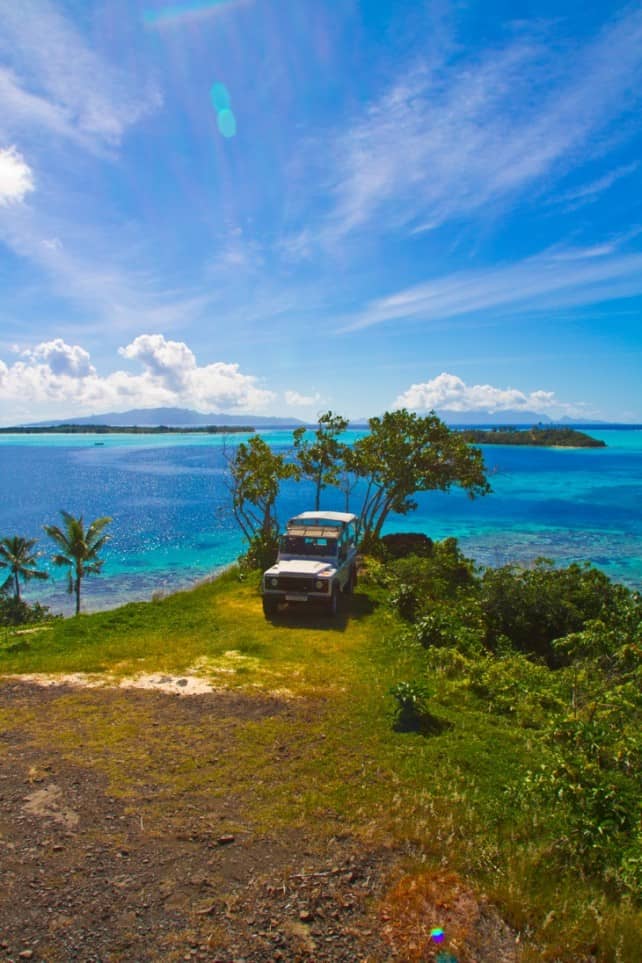 How long has Vavau Adventures been in business?
Vavau Adventures was started in June of 2006, right when the St Regis first opened its doors. They were my first major contract and the business has been growing ever since. We are almost in all the major hotels in Bora Bora. I would have to say that we are a family run company. Patrick is my business partner and his wife takes care of all of our accounting and secretarial work, during summers his children do little jobs to help around. For the 4×4 part of our business we have great tour guides that speak several different languages and really pride themselves in helping out our guests. We just recently partnered up with a good friend of mine and are redeveloping his Lagoon business. Our goal was to be able to provide a 5 star service both on Land and on the Lagoon.
What are your most popular excursions? And why?
On land our most popular tour is the half day tour, which gives you a great perspective of the history and culture of the island. You get to see some amazing lookout points while being comfortably taken around in one of our trucks. I always recommend people to do this at the beginning of their trip so that they can get a good feel of the island.
On the Lagoon, I would recommend the full day tour as you get to explore the lagoon through many different stops, from hanging out with the rays to snorkeling around and seeing reef sharks and beautiful lagoon fish. We then stop at our little private island, like I mentioned earlier the views from the short walk to the top are absolutely to die for. We have a great lunch menu,and the snorkeling is also very nice and interesting at the eastern point of the island.
What sets your excursions a part from the others offered on the island?
What sets us apart from all our competition are our tour guides both on land and on the lagoon and our customer service. This really comes through with us and our team because we genuinely care for our island and our guests and it shows in all the great comments we have on TripAdvisor. We really love our island and love showing off our island to visitors. We are looking forward to having you come to Bora Bora and giving us the opportunity to show off our island both on land and on the sea.
Contact Info:
Heirama Fearon
Owner, Manager
Vavau 4×4 adventures, Bora Bora