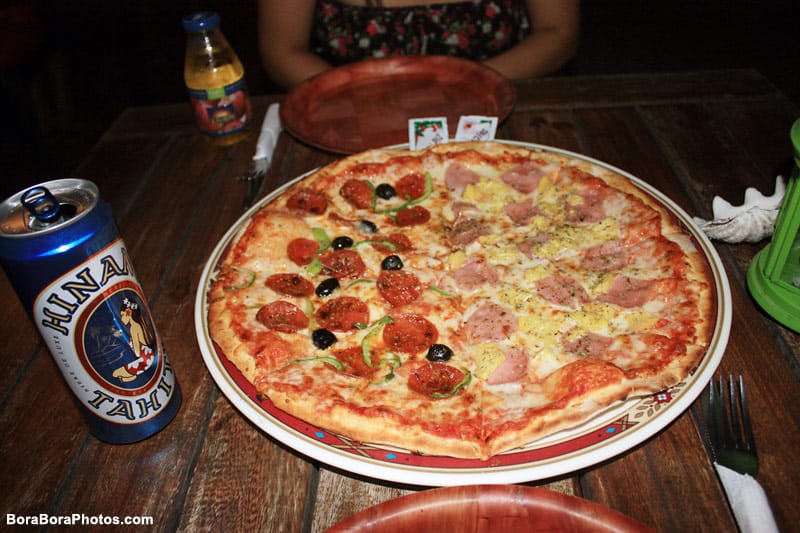 One our favorite food finds on Bora Bora was a small outdoor pizza stand, no name, just a glowing sign that said "Pizza & Crepes." We had decided to explore the food scene near our hotel one evening and stumbled across this gem about 5 minutes walking distance from our hotel. We were hesitant at first but saw a lot of locals patiently waiting for a hot slice of pizza pie.
The pizza stand is owned by a friendly couple, who were excited to see that we returned for yet a second time during our trip. Their menu consisted of two sizes of pizza. A large gives four slices per person, perfect to share with one other lucky diner.
The flavors included; classic margarita, Bora Bora (ham, cheese, pineapple, cream), four Fromages, and Royal (ham, egg, cheese, olive) to just name a few. The pizza was delicious! The pizza had the right amount of sauce, a chewy thin crust, and tasty toppings; the perfect balance of flavor and texture. Not only was the food good, the price was very reasonable, between 1000 to 2300 CFP ($10.64 – $24.45 USD).
The restaurant did not serve alcohol or fish. That's best experienced at Bloody Marys Restaurant, but we did pick up a few beers from the small market next door. A must try beer native to the Tahitian Islands is called "Hinano." You can't miss it; a blue can with a symbolic Polynesian girl on the front of the can.
The beverage complemented our half pepperoni and Bora Bora pizza nicely. The restaurant has about six small outdoor tables, which is particularly useful if you want a peaceful break from the fancier hotel restaurants. If you happen to come across this little pizza stand, take a chance and give it a try!
Quick Tip – There is a small markert next door where you can buy a "Hinano" Tahiti's national beer as Bora Bora Pizza doesn't serve alcohol.
Quick Tip – Ask your tour guides or hotel concierge for recommendations of any local spots that are off the beaten path. Don't be afraid to explore, but be careful as you walk around the island especially at night, there are not always sidewalks for pedestrians, and the locals tend to drive fast.